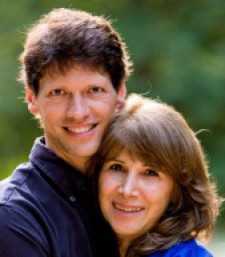 Welcome to The Massage Duo website!
... where 2+2 = more than 4
Hi! We're Dan and Mariana Watson and we LOVE working together as a massage and bodywork team. Our aim is to make every massage you receive from us the very best massage you've ever had! We specifically tailor each massage for you and design every session according to your needs that day. We are also dedicated to teaching you how to take care of your body and use self-treatment techniques between sessions.
Why do we say 2+2 = more than 4? Logically, it would seem that 2 hands massaging for 2 hours would be the same as 4 hands massaging for 1 hour. Not quite true - here's why: Synergy! Synergy is when the sum of the whole system is greater than the sum of its parts; such as 1 + 1 = 3 or, as we like to say, Dan + Mariana = The Massage Duo! The synthesis of our combined experience, knowledge, and balance of energies provide a gradual release of pain while deeply relaxing your body. "Bliss" is the word that many of our clients use to describe this feeling of gentle pain release, while being pampered at the same time.

By giving direct feedback to us during your session, you are in control of your entire massage experience, including how much or how little pressure is right for you.
Our work together is very synchronistic as we gracefully blend our techniques and intuition ... balancing our timing, pressure, & energy for a very smooth & transformative experience.
Before each massage we will sit down with you and discuss your goals for your session with consideration of your current state of health and your health history.
At that time we will also explain the treatment options available for your session and determine the approach and techniques most beneficial for you. Our goal is to assist you in relieving stress and pain and to leave you feeling relaxed and rejuvenated!
Thanks for visiting and we hope to see you soon!
Dan & Mariana Watson